Style Monday: Ombre Hombre!
Happy Monday Y'all!  Are you ready for the week?  Silly question…I hate Monday's too.
I thought it would be fun to do a style feature today to give you some fresh inspiration to start your week off right without making you think too hard!  We will be drooling over Ombre wedding style today.  Ombre is all over the wedding scene like white on rice lately so let's jump on the band wagon and see what it's all about!  Ombre is a French word (oh! Fancy!) that refers to the gradual shading of colors from light to dark.  Not rainbow…but gradient color transitions.  It is definitely not a brand new trend, but it's coming back with a vengeance and making it's way into weddings.
Like any trend; Ombre can be taken too far.  Not everything in your wedding needs to be Ombre.  Think of it as a visual pop that will be a fun addition to possibly one or two design elements on your big day.
You may recall rocker chick turned bride Gwen Stefani's gorgeous Christian Dior dress.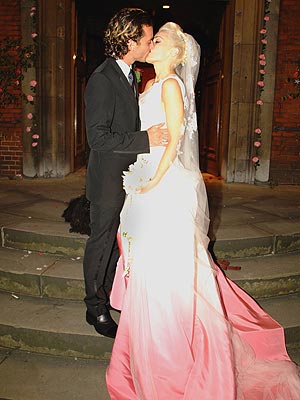 You don't have to be a rocker chick to pull that off!  Check out these new Ombre dresses!
I love this brown number.  Might not work for your wedding day but this would be a gorgeous engagement party dress.
You can also do this super subtle ombre effect for a WOW! visual impact.  A tiny bit of pink at the bottom of her train.  Perfection.
Think about your bridesmaids!  Incorporate this fun trend into their look for big visual interest in your wedding.
Here the  maids are all wearing a different shade of the same color.  Gorge!  And how the heck do that many girls with amazing legs end up in the same wedding party!?  Dang.
These lovely maids are wearing the same dress in an ombre look.  Really fun!
The look below is one of THE BEST ombre looks I've ever seen.  Maybe it's because Green is my fave colorl; but WOW!  Love this.
I've also seen a few aisle runners that are ombre and ohmygosh stunning!  You could easily pull this off with the help of a generous florist who has several shades of petals.
Just Google Obre cakes and you'll come up with so many beautiful cakes, like this little number.
Or this yellow beauty!
I love the dramatic look of this steel ombre invite.
Here's a fab ceremony backdrop done with colorful carnations!  You could totes DIY this one!
Sneak in a fun ombre colored clutch to hold your goodies.
Try an ombre bouquet.  Wow!
Stunning.
If you love the ombre look but don't want to use it on your big day-try something ombre for your engagement photos, save the dates, bridal portraits, rehersal dinner, etc.  Utilize the other events that you'll be partaking in as a chance to try out some of your favorite trends while still keeping your actual wedding in a classic style.
I REALLY hope you loved this Style Monday post!  Ombre is a beautiful way to add some major visual interest and I don't see this going away anytime soon.
So…what do you think of this color trend?  Love it?  Hate it?  Are you going to incorporate any ombre pieces into your wedding?
Have a stylish week y'all!
~Julie